Apollo 13 actor Bill Paxton dies at 61
Actor Bill Paxton, best known for his roles in Apollo 13 and Twister, has died at age 61, his family have said.
The actor died of complications following surgery, his family said in a statement to US media.
Paxton also worked in Titanic, True Lies and Aliens, and more recently in the TV series Big Love.
"It is with heavy hearts we share the news that Bill Paxton has passed away due to complications from surgery," said the statement, which called Paxton a "loving husband and father".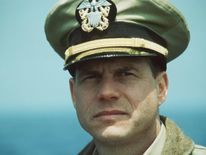 Image Caption:
"Bill's passion for the arts was felt by all who knew him, and his warmth and tireless energy were undeniable.
"We ask to please respect the family's wish for privacy as they mourn the loss of their adored husband and father."
More follows…
Thanks to: Entertainment News – Latest Celebrity & Showbiz News | Sky News