Cumberbatch to star as playboy in new TV show
Sherlock star Benedict Cumberbatch will play an aristocratic playboy in a new Sky Atlantic series written by David Nicholls.
The five-episode show titled Melrose is based on Edward St Aubyn's semi-autobiographical Patrick Melrose novels.
Cumberbatch will produce the show and play Melrose.
"We are delighted to be part of this incredible series," Cumberbatch and his business partner Adam Ackland said.
"We have been huge fans of these books for many years and David Nicholls' adaptations are extraordinary."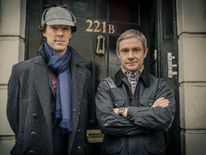 Image Caption:
The show has been commissioned by Sky Atlantic and Showtime and will depict the South of France in the 1960s, New York in the 1980s and Britain in the early 2000s.
One Day author Nicholls, who has adaptated classic novels such as Far From The Madding Crowd and Great Expectations into films, will also direct the series.
"I've been a huge admirer of Edward St Aubyn's novels for years," Nicholls said.
"I can't wait to bring these dark, witty, brilliant books to the screen. Benedict is the perfect Patrick Melrose."
The novels are based on the author's own life, growing up in a highly dysfunctional upper-class English family.
As a privileged aristocrat, Melrose is faced with the deaths of both parents, alcoholism, heroin addiction and recovery, marriage and parenthood.
"Through anti-hero Patrick Melrose, we will be offering viewers a compelling window into a world of privilege, cruelty and greed – crucially both a disturbing and a funny tale," said Anne Mensah, head of Sky Atlantic.
The show will start filming in July and is set to premiere on Sky Atlantic next year.
Thanks to: Entertainment News – Latest Celebrity & Showbiz News | Sky News