Oscars bosses apologise for wrong photo tribute
Oscars bosses have apologised to a film producer for mistakenly using her photo in a memorial segment during Sunday's show.
Shortly before the evening's biggest gaffe, when presenters announced the wrong winner of best film, there was a tribute to those who died in 2016.
Australian film producer Jan Chapman saw her face appear on the big screen instead of her friend, costume designer Janet Patterson, who died in October.
On Wednesday, the Academy posted a correction photo on its Instagram account, featuring a written apology.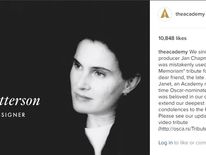 Image Caption:
"We sincerely apologise to producer Jan Chapman, whose photo was mistakenly used in the Oscars In Memoriam tribute for her colleague and dear friend, the late Janet Patterson," it reads.
"Janet, an Academy member and four-time Oscar-nominated costume designer, was beloved in our community. We extend our deepest apologies and condolences to the Patterson family."
Ms Chapman said she was "devastated" that her image was used in place of her "great friend and long-time collaborator".
"I had urged her agency to check any photograph which might be used and understand that they were told that the Academy had it covered," she told Variety magazine.
"Janet was a great beauty and four-time Oscar nominee and it is very disappointing that the error was not picked up," she added.
"I am alive and well and an active producer."
Patterson was a four-time nominee for her work in The Piano, Portrait of a Lady, Oscar and Lucinda, and Bright Star.
Thanks to: Entertainment News – Latest Celebrity & Showbiz News | Sky News