NEWS
Pakistan International Airlines plane with 90 passengers crashes in Karachi
A Pakistan International Airlines plane carrying 98 people has crashed in Karachi on a flight from Lahore, killing almost everyone on board, according to the city's mayor.The Airbus A320 was flying to Jinnah International Airport, one of the country's busiest airports. It was toward the end of a routine 90-minute flight, as it was  approaching to…
A Pakistan International Airlines plane carrying 98 people has crashed in Karachi on a flight from Lahore, killing almost everyone on board, according to the city's mayor.
The Airbus A320 was flying to Jinnah International Airport, one of the country's busiest airports. It was toward the end of a routine 90-minute flight, as it was  approaching to land, that the plane crashed into a crowded neighborhood near the airport. At least five or six houses were destroyed in the crash, although it was unclear how many casualties were on the ground.
Mayor Wasim Akhtar said all those on board died, but two civil aviation officials later told the Associated Press that at least two people survived the crash.
Local TV stations reported that three people sitting in the front row of the aircraft survived and aired footage of a man on a stretcher they identified as Zafar Masood, the head of the Bank of Punjab.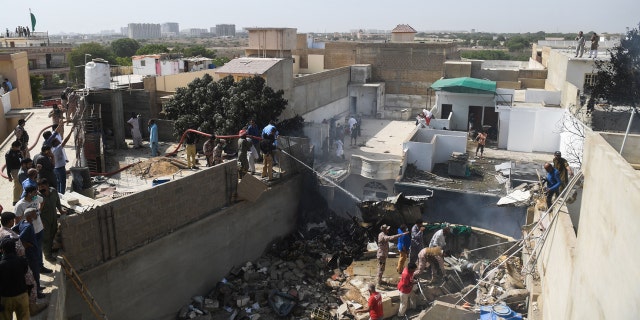 Rescue workers spray water on the part of a Pakistan International Airlines aircraft after it crashed at a residential area in Karachi on May 22, 2020. 
(AFP via Getty)
The airport in the northeastern city of Lahore, where the flight originated, initially said there were 107 people on board but that number was later revised down to 91 passengers and seven crew members. Spokesman Abdul Sattar Kokhar said the discrepancy was due to confusion in the chaotic aftermath of the crash.
PILOT CONFIRMED DEAD AFTER PLANE CRASH AT SCHOOL IN CENTRAL CALIFORNIA
The civil aviation authority said the pilot called in a mayday saying that he had lost an engine. He was attempting to land when the plane crashed.
Witnesses said the Airbus A320 appeared to attempt to land two or three times before crashing in a residential area near Jinnah International Airport. A resident of the area, Abdul Rahman, told The Associated Press he saw the aircraft circle at least three times, appearing to try to land before it crashed into several houses.
Pictures and video on social media showed smoke billowing from the crash site.
The military quickly was sent to the scene, according to a series of tweets from a spokesperson for Pakistan's armed forces.
"Army Quick Reaction Force & Pakistan Rangers Sindh troops reached incident site for relief and rescue efforts alongside civil administration. Details to follow," the first tweet read.
PAKISTAN'S BLAME GAME SHIFTS TO IRAN AS CORONAVIRUS CASES SURGE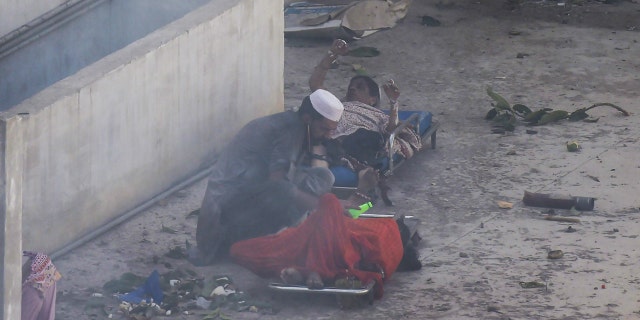 A man helps injured victims after a Pakistan International Airlines flight crashed in a residential neighbourhood in Karachi on May 22, 2020. 
(AFP via Getty)
A second one said: "Update #PIA Incident: Pak Army Aviation helicopters flown for damage assessment and rescue efforts. Urban Search & Rescue Teams are being sent on site for rescue efforts."
Pakistan's Prime Minister Imran Khan tweeted: "Shocked & saddened by the PIA crash. . . Immediate inquiry will be instituted. Prayers & condolences go to families of the deceased."
PIA grounded flights in March because of coronavirus, but began limited services again on May 16.
Real Life. Real News. Real Voices
Help us tell more of the stories that matter
Become a founding member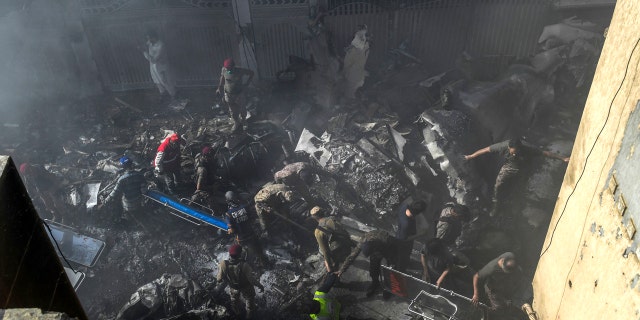 Rescue workers search for victims at the site after a Pakistan International Airlines aircraft crashed at a residential area in Karachi on May 22, 2020.
(AFP via Getty)
CLICK HERE FOR THE FOX NEWS APP
Documents show the plane last received a government check on Nov. 1, 2019. PIA's chief engineer signed a separate certificate April 28 saying all maintenance had been conducted on the plane and that "the aircraft is fully airworthy and meets all the safety" standards.
Ownership records for the Airbus A320 involved in the crash show China Eastern Airlines flew the plane from 2004 until 2014. The plane then entered PIA's fleet, leased from GE Capital Aviation Services.
The Associated Press contributed to this article
Subscribe to the newsletter news
We hate SPAM and promise to keep your email address safe