Selena Gomez Traded Her Airport Sweats For a Sexy Pair of Jeans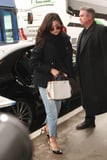 Sweats at the airport? That would be a no from Selena Gomez – at least on Tuesday when the singer was spotted at LAX. Instead of wearing joggers or track pants like those favored by Kendall Jenner, the star wore a pair of two-toned jeans with Francesco Russo slingback heels. The throwback style has been popping up quite a bit on stars (including Bella Hadid), and it seems Selena just gave it her stamp of approval. The star covered up with a black coat, and as she walked, her cropped shirt flashed a hint of skin. Selena paid no mind, though, as she signed some autographs and carried her Coach bag into the airport.
We suspect it won't be long before every It girl's wearing two-toned jeans, so get ahead of the trend and shop some options here.
Thanks to: POPSUGAR Fashion